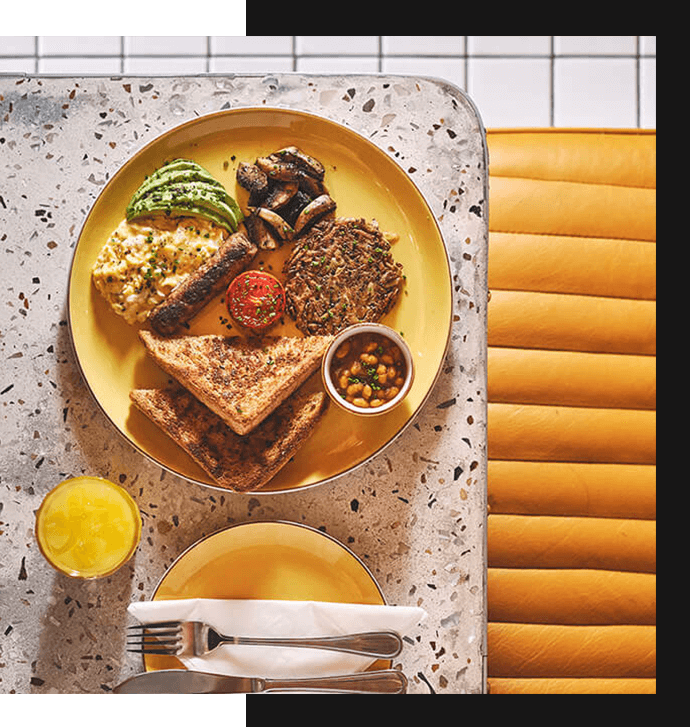 Eggheads:
(n) Intellectuals considered "out-of-touch" with ordinary people.
Our Vibe:
We like our people the way we like our eggs, sunny side up or a little scrambled.
Whether you're an early riser wanting coffee and a treat, a creative looking for a place to work, or a socialite wanting to grab dinner with friends, we have a spot for you.
Our space is a contemporary take on an old-school 70's diner, brought to life by retro design elements and food that warms your soul. Bauhaus art covers the walls, neon lights make the restaurant gold and eclectic ornaments keep your eyes wondering.
Curbside tables offer a view of table mountain, the bar tables are a perfect place to work, and a train of cosy yellow booths will tempt you to cheers a few drinks.
Our Food:
Our menu caters for all fellow eggheads, carnivores and herbivores alike. Think classic diner style dishes with a modern twist, including burgers, deep-fried cheesy snacks, pancakes, and our famous eggrolls.
Our Drinks:
We have coffees that promise to give you an eggsuberant energy. Our cocktails offer a buzz, accompanied by a classic sense of nostalgia. But, only the Milkshakes will give you the sugar rush your inner-child desires.
34 kloof street, cape town